Upcoming Events
Every year, our Church is host to, or participates in, various events that enrich lives and foster Christian fellowship within our congregation as well as our community. These events are open to everyone; if registration is needed, it is noted below.
5th Quarter Parties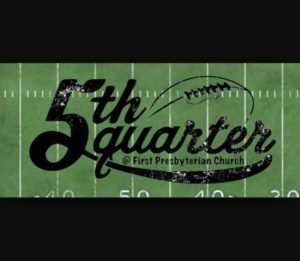 School is just around the corner!
So, football games are just around the corner!
SO, 5th Quarter is just around the corner!
All junior high and high school students are invited to the parking lot of First Presbyterian Church for music, fun, and free food immediately following most home games again this fall.
Area churches are cooperating to provide this activity for the fifth year in a row. Mark your calendars, spread the word, and plan to come and bring a friend!
Friday, Aug. 25th hosted by First Christian Church
Friday, Sept. 1st hosted by Church of the Nazarene
Friday, Sept. 29th hosted by First Presbyterian Church
Friday, Oct. 6th hosted by St. Paul Lutheran Church